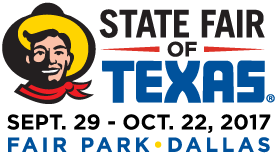 The State Fair of Texas is open and if you are thinking about going, check out the details below on admission prices and deals for you!
Ticket prices at the gate for 2017 remain the same as last year. General admission is $18 and includes hundreds of daily shows, concerts, activities and exhibits, all at no extra cost. The Fair offers $14 admission for children under 48 inches in height and seniors age 60 and older, with free admission for children age two and under.
There are ways to save when going to fair such as the deals below:
Advance Tickets Online: Skip the lines and buy your ticket in advance online and save a few bucks. You will save $2 per ticket when you buy online. You can even buy Food & Ride Coupons early online, too!
Kroger – Discounted General Admission / Season Passes: Advance purchase General Admission tickets are $16.50. A Season Pass is $39.95. You can purchase both at the check-out counter or at the service desk. A State Fair season pass includes a one-day companion ticket (good Monday-Friday).
School Tickets: Every year, school districts in the area send children home with FREE admission tickets. Be sure to use and take advantage of them….these are for free children admission only but what a savings!
McDonald's Deals: McDonald's offers a discount on children's general admission with their State Fair coupons (you can find these on tray liner or bag stuffers) any day of the fair. Bring your coupon to the gate and SAVE $5 off a general admission ticket or HALF OFF a children's tickets (with purchase of general admission). One coupon per person. Discount may not be combined with any other offers. 
First Responders Day – Friday, October 13th: As a special thank-you to their public service and dedication, the Fair will host a special day recognizing the various organizations of first responders and their contribution to the community. The State Fair of Texas would like to honor all active and retired public law enforcement, firefighters, paramedics and other emergency services agencies on First Responders Day – Friday, October 13, 2017. First Responders Day includes free admission to the 2017 State Fair of Texas for all first responders when they present a valid badge or ID card from their department or organization, plus up to three admission tickets for their family members. Valid documentation must be presented at the gate. Offer and ticket valid only Friday, October 13, 2017.
Senior Citizen Discount: Grab your granny and take her to the State Fair on Thursday! Senior Citizens (anyone 60 and over) get in for FREE on every Thursday that the fair is open.
Dr. Pepper reduced admission after 5pm: Any day after 5 p.m. Bring an empty Dr Pepper can and enter for half off.
Dr. Pepper Tuesdays: Every Tuesday, bring an empty Dr Pepper can and enter for $6. Most rides on those Tuesdays (excluding the Thrillway, Texas Star, and selected other attractions) are just 6 coupons.
North Texas Food Bank Wednesdays: Bring 4 cans of food for donation to State Fair gates any Wednesday of the Fair and receive a coupon for a $4 admission ticket. Enjoy the Fair for just $4 and help stock the North Texas Food Bank. One (4 can) donation per person. Discount may not be combined with any other offers.
Coca Cola Thursdays: Bring an empty 20 oz. bottle of a Coca-Cola product and enter the Fair for $7 admission on Thursdays. One bottle per person. Discount may not be combined with any other offers. Guests can save while snacking during Thrifty Thursdays, where participating food vendors offer one of their signature menu items at a reduced price, ranging from mini versions to regular-size items.
So many great deals are offered to save on admission to the State Fair of Texas, feel free to take advantage of these deals and enjoy all the fried food you can eat!