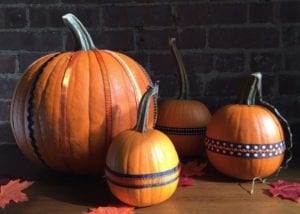 So many families enjoy pumpkin crafts and carving this time of year. With Halloween fast approaching, pumpkins make the perfect porch decor- carved, decorated, or even just plain pumpkins. Whether you enjoy carving a masterpiece or if not a fan of pumpkin guts, there are also tons of great no-carve ideas for your pumpkin craft!
Creative Carving: There are many great templates you could purchase for carving. But you could also try a tasteful pattern to add Halloween cheer to your porch. Turn standard grocery store Halloween pumpkins into decorative pumpkins embellished with polka-dot cutouts, or whichever pattern you would like. After removing the pumpkin guts, begin carving the various patterns. For supplies you will need a carving knife, a spoon, a pencil, and a cordless drill with various-sized drill bits. The easiest pumpkin carving pattern is the polka-dots. All you need to do is mark a pattern of dots on the pumpkin using your pencil, and then drill through the holes using the drill or carving knife if smaller! The possible patterns are endless, and kids will love the chance to be creative.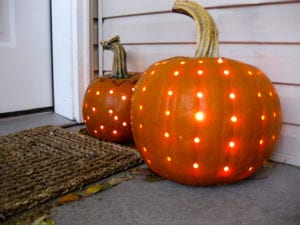 No Carve Pumpkin Ideas: When thinking of ideas to decorate a pumpkin without the mess of emptying the guts, think of items you can attach to your pumpkin. Either with glue or sticking into the pumpkin, the possibilities are endless. Kids enjoy painting pumpkins as well, so this is a great family craft to enjoy together. Make a few spider pumpkins by attaching pipe cleaners and a paper mouth and eyes. Or cute bats by attaching paper wings, paper eyes, and drawing on the mouth. Yarn is also another fun no-carve item to attach to pumpkins by winding around the pumpkin in style. So many fun no-carve ideas!
Whether you are carving a pumpkin or crafting with one, this is a great time of year to let the entire family show their creativity. Maybe even make it a fun family competition! Take pictures of each pumpkin to display and allow your family, friends, and neighbors to vote.