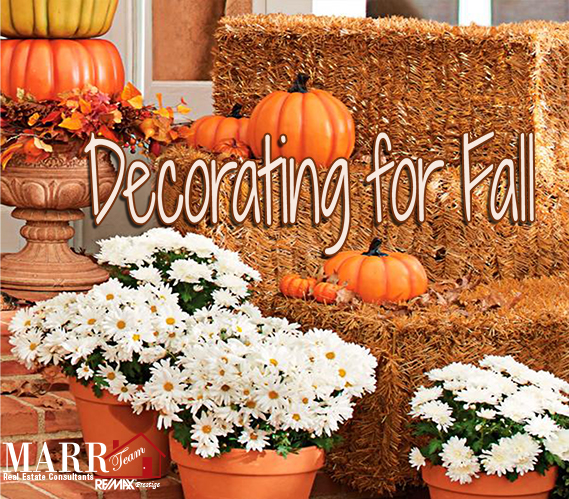 Pumpkins, gourds, fall foliage, and mums…time to decorate for Fall! Whether it is your front porch, front foyer, or mantle here are many great ideas to keep in mind when decorating these areas throughout your home.
Your front porch and front entry are the areas your guests see upon walking into your home! Add a touch of fall with a wreath and mums on the front porch. The front entry table is the perfect place to add fall flowers or arrangement of pumpkins and other fall decor. Keeping it simple yet adding the warm colors of fall will make your home more inviting.
The mantle in your home is another area that is great to decorate for fall. Add fall decor to what you already have on the mantle like a garland or pumpkins, or completely re-do your mantle for the season. Don't forget to utilize the hearth area as well, great pop of pillows, blankets, or added pumpkins will bring more fall to the look you are going for. Then enjoy a fire in the fireplace of the fall decorated mantle, when the weather cools down, of course.
Decorating for fall is great to lead into the Holidays as it really brings the spirit of the change in seasons. Warmer colors than summer add more warmth to your home as well. If unsure where to start, try by going with a theme like leaves or pumpkins and decorating throughout. Or just have fun with it as you can never over-do fall decor! When decorating your home, if you are thinking about wanting to "fall" into a new home, we can help….give us a call today!